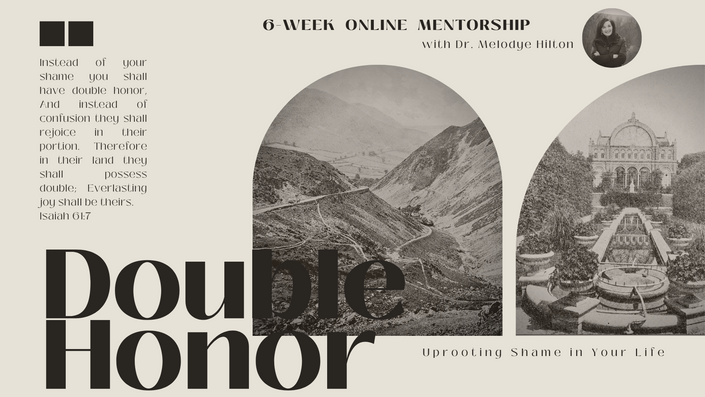 Double Honor Mentorship
Uproot the stronghold and stop the cycle of shame in your life
This 6-week online mentorship class is taught by Dr. Melodye Hilton and includes video lessons, practical applications, Zoom mentorship sessions (group), the Double Honor book, private Facebook group for community interaction, and detailed teaching notes.
Dr. Melodye is the author of the book, "Double Honor: Uprooting Shame in Your Life," which is based out of her own healing journey of becoming delivered and set free from the cycle of shame, fear, and control. She now carries an anointing to teach and minister on this topic to help others experience the freedom that she herself now enjoys.
During this class, we will look at how shame and fear were some of the first tactics the enemy used to kill, steal, and destroy in our lives. These lies of shame and fear often subtly or boldly bombard our minds and distort our identity; they affect the way that we live, how we see ourselves, and how we see the world. If you ever wonder why you struggle with certain areas of life and can't seem to break free, this class may be a key to helping you unlock your true identity and love and enjoy life in a whole new way!
Join us and experience the Father's heart for you that breaks through the walls that may be hindering you from thriving. It's time to be free to love your life and love the person God created you to be!
Your Instructor
Dr. Melodye Hilton works with individuals and workgroups around the globe as a leadership consultant, behavioral analyst, Master CVI Trainer, and executive coach. Her recognition extends over all ages, socio-economic, and educational backgrounds through her work in corporate and local business, government, and public and private educational sectors.
She and her husband, Steven pioneered Giving Light–a local church and global outreach–in the heart of Central Pennsylvania. 40 years later, they have learned that when you obey God's leading, "you can reach the world from anywhere." They continue to see God's hand at work within the vision to equip all ages to discover their God-given identity and activate their unique personal purpose.
Dr. Melodye served Christian International, founded by Bishop Bill Hamon, for 30 years. Since 2006, she has also served on the faculty of Randy Clark's, Global Awakening School of Ministry, teaching the second-year prophetic track and presenting her signature leadership training.
She is the author of three books, Unmasking Prejudice, Double Honor: Uprooting Shame in Your Life, and Higher Living Leadership. In addition, Dr. Hilton has founded the #StopDevaluation Movement to stop the narrative of devaluation and spread the message of love, hope, and validation. She is the host of the #StopDevluation Podcast as well as a co-host on the weekly Life Exchange Podcast, which she co-hosts with her multi-generational leadership team.
Dr. Melodye travels nationally and internationally ministering, training, consulting, and coaching. She is the mother of two grown children and three active grandchildren.
Course Curriculum
Promo
Available in days
days after you enroll
Week 00 - Welcome!
Available in days
days after you enroll
Week 01
Available in days
days after you enroll
Frequently Asked Questions
When does the course start and finish?
This mentorship course begins on Monday, October 3, 2022 and ends on Friday, November 11, 2022.
How long do I have access to the course?
The interactive mentorship part of this class will conclude on Friday, November 11th. However, you will have indefinite access to the course materials (video lessons, notes, etc.) even after the mentorship closes.
What is the workload like for this class?
Your lessons for the week will be unlocked each Monday morning. This will include 1-3 hours of video lessons, a short reading assignment, and a homework assignment. (*Homework is not submitted or graded.) On average, expect to dedicate 3-5 hours per week to this course. However, as with anything, you will get out of this class the amount of work you put into it. :)
What are the interactive elements of this mentorship?
There will 3 Live Zoom group sessions with Dr. Melodye throughout this 6 week class. You will also get access to a private Facebook group where all students and Dr. Melodye can meet and interact with one another. You can also interact directly within the lessons. We encourage as much dialogue, Q&A, and interaction as possible!
How do I access the course?
When you register, you will create a username and password for your student portal in Teachable. This is where your course materials are hosted. You can log into your student portal from any device with internet connection. You can also access the course through the Teachable app, available for free for Apple iOS (App is not available for Android). Please note that you will not see content released into the student portal until the official course start date on October 3rd. After that date, new material will be released in the portal each Monday through the duration of the course.
How will I receive my Double Honor book?
If you select the course option with the paperback book, a copy will be mailed to you prior to the start of the course. (Last minute enrollments may receive after the course has begun.) Book will be mailed to the delivery address included in your enrollment. If your book should be mailed to a different address, please email Katie at
[email protected]
ASAP. If you select the course option for the Kindle eBook, you will be provided with a link for a free purchase from Amazon when the course officially begins (October 3rd). The book must be purchased through the provided link within the first week of the course to receive for no cost.
This course is closed for enrollment.