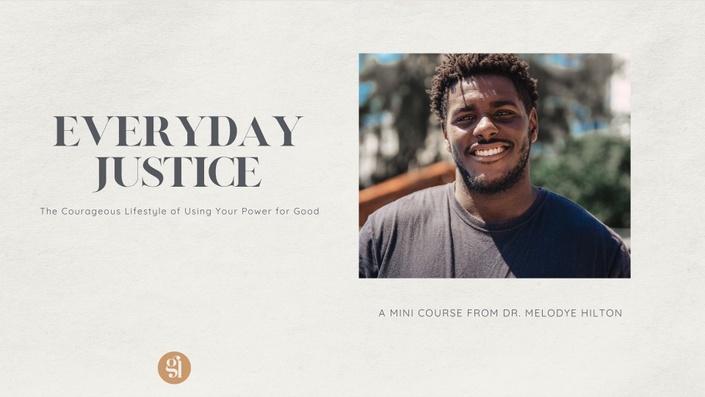 Everyday Justice Mini Course
The Courageous Lifestyle of Using Your Power for Good
Each lesson in this 5-part mini course includes a short video from Dr. Melodye Hilton along with a simple action step to help you to become a doer of justice in your everyday life.
You will also receive the mini ebook, "Everyday Justice: The Courageous Lifestyle of Using Your Power for Good."
ABOUT:
When someone chooses to expose a misuse of power and stand for what is right, they initiate the reshaping of the culture to come. Throughout history, courageous voices were compelling enough to motivate government to enact legislation to defend the vulnerable. Their sacrifices and unwavering determination modeled a way of life that challenged the masses to confront their biases and bigotry.

A clarion call persists as our world continues to experience an epidemic of prejudice, mistrust, and injustice. Not everyone has the position or platform to influence the laws of the land from the highest courts; but every one of us has the power of influence to impact the lives of those around us just by doing what is right. Through simple acts of kindness, we can be voices of everyday justice as we choose to use our power for good.
Your Instructor
Dr. Melodye Hilton works with individuals and workgroups around the globe as a leadership consultant, behavioral analyst, and executive coach. Her recognition extends over all ages, socio-economic, and educational backgrounds through her work in corporate and local business, government, and public and private educational sectors.
She and her husband, Steven pioneered Giving Light--a local church and global outreach--in the heart of Central Pennsylvania. 39 years later, they have learned that when you obey God's leading, "you can reach the world from anywhere." They continue to see God's hand at work within the vision to equip all ages to discover their God-given identity and activate their unique personal purpose.
Dr. Melodye is ordained under the oversight of Christian International, founded by Bishop Bill Hamon. She serves on both the board of directors and board of governors to Christian International. Since 2006, she has also served on the faculty of Randy Clark's, Global Awakening School of Ministry, teaching the second year prophetic track and presenting her signature leadership training.
She is the author of three books, Unmasking Prejudice: Silencing the Internal Voice of Bigotry, Double Honor: Uprooting Shame in Your Life, and Higher Living Leadership: Influence Societal Design and an Instrument of Justice. The latter being available in both marketplace and Biblical editions as well as in Spanish.
Dr. Melodye travels nationally and internationally ministering, training, consulting, and coaching. She has two grown children and three active grandchildren. Learn more at www.drmelodye.com.